Browsing articles in "DAY-TO-DAY"
Holy flip!!!! Another year is upon and as I approach the new year there are some wonderful things awaiting me in the near future. First, I finally will graduate with my bachelors degree from Dixie State College, soon to be university, in Computer Information Technologies with a visual technologies emphasis. So super stoked! Second, looking forward to another great year at the good ol' Canyon Media as Interactive Director. I love my staff and those I work with. This is great because we are really improving out brand and identity. New websites, new sales packages, new video series, etc… All that encompass our goal and identity. Third, looking forward to learning some new technologies to improve my skills. Fourth, this year will make 4 years with my amazing wife!!! Love her!
Blogging from your phone, while convenient, is not the most effective. So at this juncture I bid you farewell for now. God Bless and Peace Out!!! To a hopefully stupendous 2013!!!! While an odd number it does contain lucky number 3. And you are an evens person add them up and you get a clean number 6. What ever makes you feel better. Over and Out.
Meet the real Ted with the famous Carl Lamar.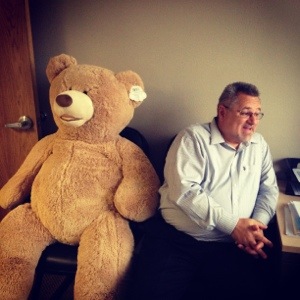 This dragonfly would hang out on my antenna after class everyday for 3 days straight! video shot with iPhone 5
Just trying out this new WordPress app I got on my iPhone 5! I am really curious how well it works because it will add so much to my ability to blog more frequently!!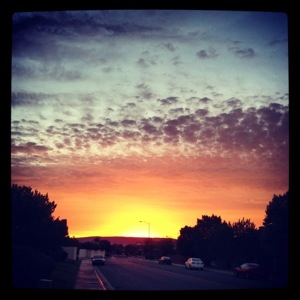 Well I really should be in bed, but I was adding some new images to the website and editing some photography to share. I have really enjoyed this summer as busy as it has been it has been satisfactory. This past week my wife and I celebrated our 3 year anniversary together! She has always been such a great support to me and to what I love to do. If it wasn't for her support I don't know if I would even be doing Graphic and Web Design full-time as a career. It is amazing how one persons support can change the course of a life. I am grateful that my wife's support has been so positive! Granted it still does drive her crazy when I am on the computer working even after a 9 hour day at work, but what are you going to do… ;D
Keep believing in yourself and don't forget to surround yourself with people who believe in you and have the courage to support you in your endeavors!
Hi I am James Kreitzer and I approve this message!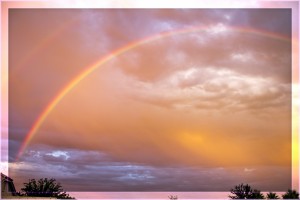 This summer I had to take a math class for my degree, Math 1100 Business Calculus. It had been 8 years since I took Pre-Calculus so I was a little nervous getting into the class. When I originally registered for it it said that I didn't have the prerequisites for the course. I was really frustrated because I had taken the prerequisite Math 1050, but it had been 8 years. So I called the counselors at the school to see what the problem was and they informed me that my Math credits were no longer valid because it had been 2 years. This was something I was unaware of and they instructed me that I would either have to test back in to the class or get the Dean of the Math Department to sign me in. I called the Dean and he was on his way out of town on vacation and would not be back until the day before class actually started. I didn't know what the freak to do. I knew that if I took the test I wouldn't test high enough because it had been so long, but I also knew that if they signed me in I would be able to keep up and pass the class. I decided to wait… The Dean returned and agreed to sign me in to the Business Calculus class. So for the past 8 weeks I have been going to Business Calculus Tues, Wed, and Thurs during my lunch time from work. Finally the class has ended 6 chapters, 3 tests, 2 teachers, and 1 final later the class is over!!! Halle-FREAKING-lujah! Needless to say I must gloat a little that even after an 8 year sabbatical from Math I still passed Business Calculus…But to gloat even more I scored the highest in the class ending the semester with an A and a 100.2% for the semester! I still got it!!!! BooYeah!
I have a couple more weeks before Fall semester starts up and I will take that free time to update this website with more content and start my other education blogs about art and design. This Blog stuff is new to me but I Like it!!! "Tommy Like Wingy"  So in the words of Ron Burgandy "Stay Classy San Diego" and if you aren't in San Diego just "Stay Classy" anyway!
Today I created a blog and website for myself. I have been doing web and graphic design for the past 3 years for clients and businesses, but I have never done one for myself. So this is my first step into that world. I hope to be able to share my creative projects, ideas, designs and art work with the world. I want anyone to be able to visit this site and share their ideas and designs with me. Community is key to creating quality, powerful and indescribable  content that drives and creates even more creativity.
I currently work for Canyon Media, a local radio, marketing and advertising company, as their Interactive Director overseeing all websites, videos and graphic design projects. I love working in this field! I will be graduating with my bachelors for Dixie State College with a Bachelors in Computer and Information Technologies with an emphasis in Graphic Design. I have been creating art my entire life. Since I was born, it seems, I have been drawing and doodling. I am finally creating a place where I can share my 'doodles' with the world.
And even if no one ever reads this it will still give me an outlet to share what I create and boost my creativity!
Thanks! And in the words of Tobuscus 'PEACE OFF'
What's New
QUOTES
"To avoid criticism say nothing, do nothing, be nothing."
—Aristotle
"The only way to achieve the impossible, is to believe it's possible."
—Alice in Wonderland